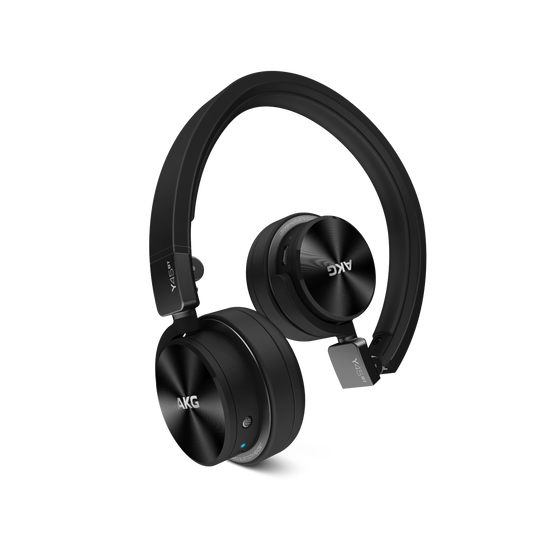 Inspirational AKG-quality sound
AKG-quality sound featuring 40mm drivers and noise-cancelling ear-pad design.
Bluetooth®-enabled connectivity for preferred devices plus the added freedom of living wirelessly
Enjoy true wireless performance with a rechargeable power source providing total independence for up to 8 hours – or plug in for external power and recharging.
Lightweight, on-ear design and soft ear-pads for long-lasting comfort
AKG Y45BTs' smaller, lightweight design, premium headband and pliable ear-pads define a comfortable fit.
Ear-cup-mounted controls for volume/remote/mic
Convenience personified with cable-free control when you want it.
Detachable bypass cable for listening direct; USB for recharging when power required
Whether you're plugging in for recharging or for listening direct, the choice is always yours.
3D-Axis, fold-flat mechanism and soft case for easy storage and safe transport
Always at-hand when you need them, their fold-flat design keep them neatly housed in a soft travel case – ready as required.
Unleash your inner creativity
The Y45BTs offer AKG-quality sound in a lightweight, on-ear headset addressing your needs for connectivity, convenience, portability and style.
Mini-sized, new AKG Y45BTs are on-ear headset providing the perfect answer to enjoying quality sound your way – because they're designed to do much more than enhance audio performance. With true, wireless Bluetooth® connectivity – they simplify life through hands-free, smartphone connectivity and enhanced mobility with their own source of power.
A stylish statement of inventive design and comfort that won't quit, they're also a fold-down, portable answer to keeping it on-the-go. Make the ultimate statement about you while you work or you play – instrumental in keeping you motivated and inspired. Crisp, clean AKG-quality sound joins all the convenience, comfort, portability and functionality of a slightly smaller headphone perfectly suited to your busy lifestyle. It's the best of all worlds from AKG – professional-quality sound and all the flexibility of purpose that comes with powered, wireless Bluetooth® technology and the hands-free convenience of doing things your way.